Featuring
Kathryn Demarco
King Godwin
Wiley Johnson
Eduardo Lapetina
Jennifer Markowitz
Robyn Scott
This exhibition brings together North Carolina artists who self-identify as having a disability to collectively share their unique experiences that inform their artmaking. The works in this exhibition are purposefully quite different stylistically to showcase the abundant diversity of talent within the disability arts community. For example, the rich thick layered colors of Eduardo Lapetina's paintings are applied by pouring, scraping, dripping and other methods, create a complex surface texture. Meanwhile, Wiley Johnson has a more fluid approach to abstraction often allowing the previous layer of paint to show through transparent applications. Both Robyn Scott and King Godwin work with highly detailed structures but with varying results. The use of self as the subject is evident in Kathryn DeMarco and Jennifer Markowitz's constructions with each selecting materials for execution that support the conceptual context of the work. The one underlying link between these works is the use of art as their language. Art helps translate what can often be hard to explain in other ways. For instance, it is King Godwin's primary form of expression with emotions and feelings being attached to specific colors and numbers.
Each of the artists in the exhibition brings a personal viewpoint to their work. Through a variety of media, forms, and techniques, the artists share their unique lived experiences with the viewer and the broader art community. They weave their conceptual content with their identity seamlessly in a manner that translates into the final execution of the artwork. As artist Eduardo Lapetina states, "In the process of creation, a painting becomes a battlefield for my struggles about what is, what is not, what ought to be, what I like, what I love, what I hate, frustrations, disenchantment, embarrassments."
When thinking about how to address issues of accessibility in the arts, it's not only important to focus on the audience experience but to also consider the artists that are exhibited. We are a communal society and naturally gravitate towards shared experiences. Representation matters and we can all relate more easily to one another when universal inclusion is considered and revered. Having representation in the content being presented can be as rewarding to the viewer, and of course the artist, as the attention to inclusive design of the support materials and gallery space. Creating an accessible space is not about accommodation, but instead about serving the largest community possible.
Stacy Bloom Rexrode, Curator of Exhibitions and Collections
Raleigh Arts
Scenes From the Exhibit
Scroll down for more detailed artist information, audio transcriptions, written descriptions of the works, and high-quality image links.
From the artist: Kathryn DeMarco is a collage artist who lives and works in Durham, NC. She has a BFA from Boston University and has continued to study with workshops at Penland and with other artists.
Kathryn has had solo shows at Craven Allen Gallery, Crook's Corner, the Duke Eye Center, Golden Belt Room 100. Her work has been included in numerous juried shows and invitationals. Her collages are in private collections across the United States. Kathryn is available to make collage pet portraits on commission.
Kathryn volunteers with Independent Animal Rescue. She has been with Craven Allen Gallery since 1997.
Website: www.kathryndemarco.com
Contact: carmine8it@gmail.com

And Suddenly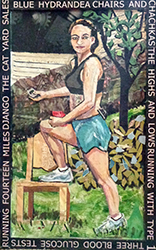 Finding A Way

Give and Take
 
Two Heads Are Better Than One

My Pancreas Comes in a Box
From the artist: King expresses his feelings about the important things in life and love in his paintings. He believes in his work and each creation is precious to him. Colors and numbers are friends with their own special meanings. To King, 4500 is the happiest number, but 07 is sad, while 77 is a good day! He smiles when he paints and pours his feelings into each canvas. King thinks being autistic is pretty lucky because it gives him the capability to see beautiful trees and talk to them. Every piece purchased supports his ability to live independently. King's career as a professional artist is not only inspiring, it serves as proof that life with a disability can be productive and meaningful!
Website: www.KingGodwin.com
Contact: kinggodwinart@gmail.com
 
The camel is having a good day because it's with the leaves and water
From the artist: Wiley Johnson is a talented 37-year-old artist who has autism spectrum disorder. Wiley has no formal art training. He started painting as a hobby approximately 2009. Art became the way Wiley copes with the challenges of living with autism spectrum disorder, learning, and finding stable employment. He enjoys painting acrylic on canvas, abstract style, but also likes painting on recycled materials and small wooden crafts.
2020 was a year of transformation for Wiley from a hobbyist painter to an emerging artist. He had his first solo exhibition in January 2020 and was included in 4 juried exhibitions. Wiley was honoured to have a solo exhibition with the Durham Art Guild March 2021 at the Golden Belt Gallery. He also had paintings exhibited in group exhibitions at Visual Art Exchange, the Block Gallery and Compass Rose Brewery in Raleigh, NC. in 2021.

The Object of Time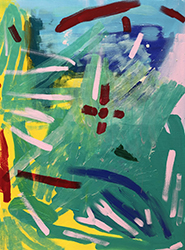 The Night and Frog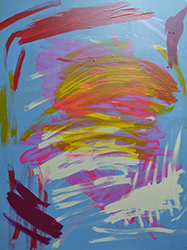 Streaks of Vibrance
From the artist: My paintings are a way for me to enter the world, not an escape from it. A painting opens a door into a space in which a play may be staged, where plot points, conflict, climax, and resolution all come together. In the process of creation, a painting becomes a battlefield for my struggles about what is, what is not, what ought to be, what I like, what I love, what I hate, frustrations, disenchantment, embarrassments. My art exposes to the world my most private thoughts and feelings, forming a spatial connection between what lives within me and what is alive in everyone else.


I want my spaces to be painted without intention, without conscious technique, without anything that might interfere with the connections I seek to create. I do not want to keep a tradition. I am not looking for beauty, but the viewer might find it in my art. And it is not about any particular theme or motif, it is about effectively conveying the immaterial through materiality. My aim is to project energy, visual vibrations, light, voices, excitement, and enthusiasm, captured in a physical form that you can take home with you. 

Website: www.eduardolapetina.com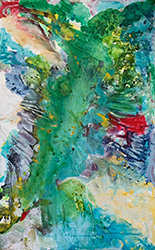 Crossing the Chasm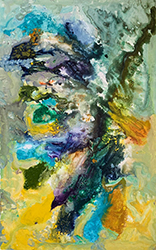 Infinite Possibility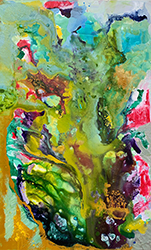 The Breath of the Soul
Jennifer Markowitz is a textile artist in Raleigh, NC. Her work has been shown at Artspace, The Nasher Museum, Frank Gallery, CAM Raleigh, Dayton Society of Artists, St. Louis Art Guild, Block Gallery, VAE, The National Humanities Center, Weems Art Gallery and VAE. She is a two- time recipient of the United Arts Career Development Grant and was the 2020 Emerging Artist Resident at ArtspaceNC. She was also a Brightwork Fellow at Anchorlight where her first solo exhibition, Fleshmap: My Bipolar Embroidered Geographies, showed in November 2019.
Before turning to textiles, Jennifer spent 25 years directing environmental theatre throughout the US, Scotland, Ireland, Israel and England, where she received an M.A. in Theatre and Performance Studies from the University of Warwick. She has taught Psychogeography, Performance Theory, Site-Based theatre and Postdramatic Theatre in the UK at the universities of Warwick, Birmingham, Manchester, Portsmouth and Plymouth. In the US, she has taught at Theatre classes at DePaul University, Columbia College Chicago and University of Notre Dame and Embroidery classes at Artspace and Meredith College.
 

Manic Episode

An Examination
Robyn Scott studied studio art at the University of California, Irvine earning an BA as well as an MA from the Winchester School of Art in the UK. She lives and practices art in Raleigh, NC. They have exhibited their work nationally and have work included in the Raleigh Municipal Art Collection.
These works focus on the lived experience of having invisible illness and how that informs interactions between the artist and her community. Invisible illness and disability lead to a number of misunderstandings and missed connections in an environment that is built for healthy people. Navigating this world is an adventure, sometimes traveling through a maze, an upside-down world, or one with no gravity at all. The works contain hidden images, reflections, and light where shadows should be. The negative and positive spaces become one and the same throughout the process of creating the pieces to play on the lack of depth of field in real life. The viewer may see multiple elements of the drawings eventually noticing that what was hidden is now in plain sight.
Website: instagram.com/robyn.scott.pen.and.ink

Autumn

Paeonia

Mosquito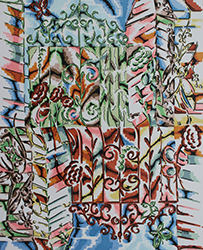 Morphology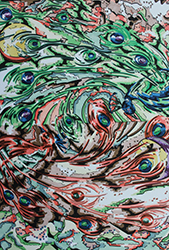 Morphology Feather
 
Sting
About This Exhibition
Art in Translation: Finding a Visual Voice is part of a showcase of art exhibitions, performances, and experiences accompanying the Leadership Exchange in Arts and Disability Conference (LEAD), which will take place in Raleigh from August 1 – 5, 2022.
This exhibition is brought to you by a partnership between Raleigh Arts and the Raleigh Convention Center with programming support from ArtsAccess and the Raleigh Little Theatre.