Mar
26
-
Mar
27
Choral Celebration - Raleigh Fine Arts
Meymandi Concert Hall
Meymandi Concert Hall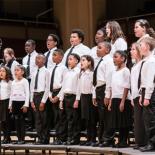 March 26 - 7:00 PM
March 27 - 7:00 PM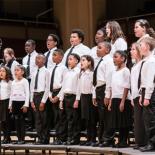 This is a free event that is open to the families of student performers.
In 1999 The Raleigh Fine Arts Society began a new tradition: an annual Choral Celebration, a project offering choral groups in grades 4 and 5 in Wake County Schools a chance to share their music as well as enjoy the successes of other elementary school choruses.
The first performances were held at Martin Middle School and moved in 2001 to Meymandi Concert Hall. Since then the Choral Celebration has received much greater visibility within the Raleigh community and achieved record attendance of over 3,000 people. There are 16 elementary choral groups performing, with each performing two songs. This opportunity for some students is a once in a life time experience: singing in the state-of the-art concert hall, home of the NC Symphony.