Jul
6
-
Sep
19
A Collective Introspective Art Exhibit
Betty Ray McCain Art Gallery
Betty Ray McCain Art Gallery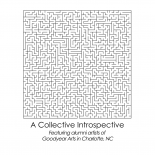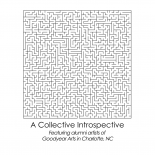 Goodyear Arts, founded in 2015, in Charlotte, North Carolina is a non-profit art space guided by the mission that artists need time, space, money, and community. This artist-led program has invigorated the Charlotte art community with residencies, exhibitions, and performances in once-underutilized spaces.
At the heart of Goodyear Arts is its artist-in-residence program, which provides 2-months of studio/rehearsal space, stipends to support the creation of new work, and culminates in a public showcase.  Alumni of the residency program can join the Goodyear Arts Collective, which offers numerous benefits, including free workspace, in exchange for continued support of the program.
A Collective Introspective features the work of 15 artists in the Goodyear Arts Collective. Artists from across disciplines and backgrounds have become an intimate family through the shared experience of the Goodyear Arts residency. The energy of the Collective is bright and buzzy, Goodyear Arts has fostered a community of constant conversation and (un)intentional collaboration. Our interests and approaches vary so widely, but there is always a common spirit of curiosity visible in our work.
Throughout this exhibition, you will see the inquisitive minds at work, actively trying to understand the world around us through their creative practices. We invite you to explore A Collective Introspective and discover the benefit of providing artists with time, space, money, and community.
A Collective Introspective will run July 6 - September 19, 2022.
The Betty Ray McCain Art Gallery can be accessed M-F 10am-2pm and during performance hours.