Feb
26
The Hidden Crisis: Mental Health in Times of COVID in the African American Community
Streaming
Streaming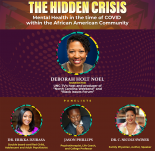 February 26, 2021
|
Friday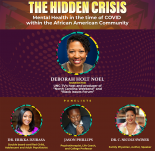 Duke Energy Center and the African American Cultural Festival of Raleigh and Wake County present "The Hidden Crisis: Mental Health in Times of COVID in the African American Community". 
Local medical professionals will unpack and discuss the impact of the pandemic and the racial uprising on the mental and physical health of African Americans. This virtual panel will include therapist and life coach Jason Phillips, Dr. Carmelita Swiner, and Dr. Erikka Dzirasa. The panel discussion will be moderated by Deborah Holt Noel, UNC-TV's host and producer of its popular shows, "North Carolina Weekend" and "Black Issues Forum".
Airing February 26 at 7pm on Raleigh Television Network- RTN, (please check your local listings) and the Duke Energy Center and AACF Facebook and Youtube Pages.