Fletcher Opera Theater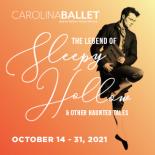 October 14 - 7:30 PM
October 15 - 7:30 PM
October 16 - 2:00 PM
October 16 - 7:30 PM
October 17 - 2:00 PM
October 23 - 2:00 PM
October 23 - 7:30 PM
October 24 - 2:00 PM
October 30 - 2:00 PM
October 30 - 7:30 PM
October 31 - 2:00 PM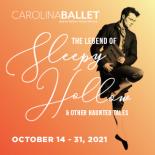 This October, the Carolina Ballet returns to live performance with their new Halloween tradition—The Legend of Sleepy Hollow. Artistic Director Zalman Raffael brings Washington Irving's bonechilling tale to the stage for fans both young and old. The ballet recounts Ichabod Crane, his doomed courtship with Katrina Van Tassel, and his "face-to-face" encounter with the terrifying specter that is the Headless Horseman.
Fans of the supernatural will enjoy this program of frights and delights that include Robert Weiss' Lady in the WhiteVeil and The Raven. Spine-tingling and eerie, do not be surprised if you stumble upon an ominous ghost, a creepy blackbird or the Headless Horseman himself!
ENTRY REQUIREMENTS
*Face masks, proof of full Covid-19 vaccination, or negative Covid-19 PCR test completed within 72 hours prior to event required.