Meymandi Concert Hall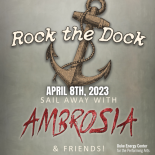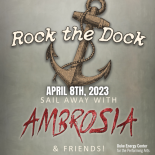 "Rock the Dock" featuring the original artists in concert playing some of the most iconic hits from one of Rock's greatest eras.
Ambrosia, Maxine Nightingale, John Ford Coley, and Peter Beckett (The Voice of Player), will come together for a magical night performing all of their 1970's and 1980's Billboard Top 40 Hits.
These songs are the soundtrack to a generation. Today's so called smooth yacht rock music scene would not be yacht rock without the contributions of these Grammy winning artists. What emerged primarily from southern California during one of the greatest periods of music is a classic rock radio staple across the United States. You cannot turn on the radio without hearing many of these songs every day. As younger generations of music fans fall in love and embrace these classic rock/soft rock hits, everyone realizes that these songs are becoming bigger now than at any time since their heyday which by common consent stretched between 1976 and 1983. Get ready to ROCK THE DOCK!
Plan Your Visit
Further information for this show will be provided 24 hours prior to the scheduled time. 
Entry Requirements
*Face masks are encouraged.