Fletcher Opera Theater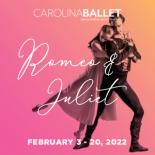 February 3 - 7:30 PM
February 4 - 7:30 PM
February 5 - 2:00 PM
February 5 - 7:30 PM
February 6 - 2:00 PM
February 12 - 2:00 PM
February 12 - 7:30 PM
February 13 - 2:00 PM
February 19 - 2:00 PM
February 19 - 7:30 PM
February 20 - 2:00 PM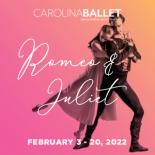 Carolina Ballet is proud to perform once again the beloved tale of Romeo & Juliet. Set to Prokofiev's magnificent score, Weiss' ballet is a faithful retelling that expresses all the drama and pathos, action and tenderness, humor and heartbreak found in this legendary story.
Filled with dramatic sword fights, stunning costumes, lush scenery and breathtaking dance, this ballet underscores the emotion of Shakespeare's powerful play and brings to life the love, longing and loss of this epic tragedy.
ENTRY REQUIREMENTS
*Proof of full Covid-19 vaccination, or negative Covid-19 PCR test completed within 72 hours prior to event required.
*Face masks required.