A Center of Excellence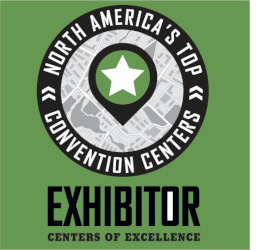 We're proud to have been named as one of North America's Top Convention Centers by Exhibitor Magazine for four consecutive years ('20-'23) for exceptional scores in Facility & Functionality, Location & Accommodations, Service & Execution, Upgrades & Expansions, and Awards & Industry Participation.
Exhibition Information
150,000 sq. ft. of contiguous space easily divides into three halls
Flexible hall configurations accommodate up to 790 10'x10' booths
Seating for 12,000 banquet-style or 15,000 theater-style
12 covered loading docks and numerous ramps for direct drive-in access to Exhibit Halls
Advanced lighting, sound, and telecommunications
Built-in Concession Kitchen
Six show offices overlook the Exhibit Hall
Ordering Utilities
The Raleigh Convention Center provides electrical services, phones, wired and wireless internet services, and more. The link below details how to proceed with ordering your utilities.
UtilitieS ORDERING PORTAL INFO 
For internet questions: 919-996-8519
For electrical questions: 919-830-3718
For payment questions: 919-996-8515
For all other questions, please contact your Event Manager.
Loading In and Out
We've got you covered, coming and going. The Raleigh Convention Center has been designed to provide you with efficiency and ease, including our unique support system for loading exhibits in and out.
Twelve covered loading docks and numerous ramps give you direct drive-in access to the Exhibit Halls, and every phase of your load-in and load-out will be overseen by our Dock Master. If you have any specific needs for your exhibit, please let us know.